Ready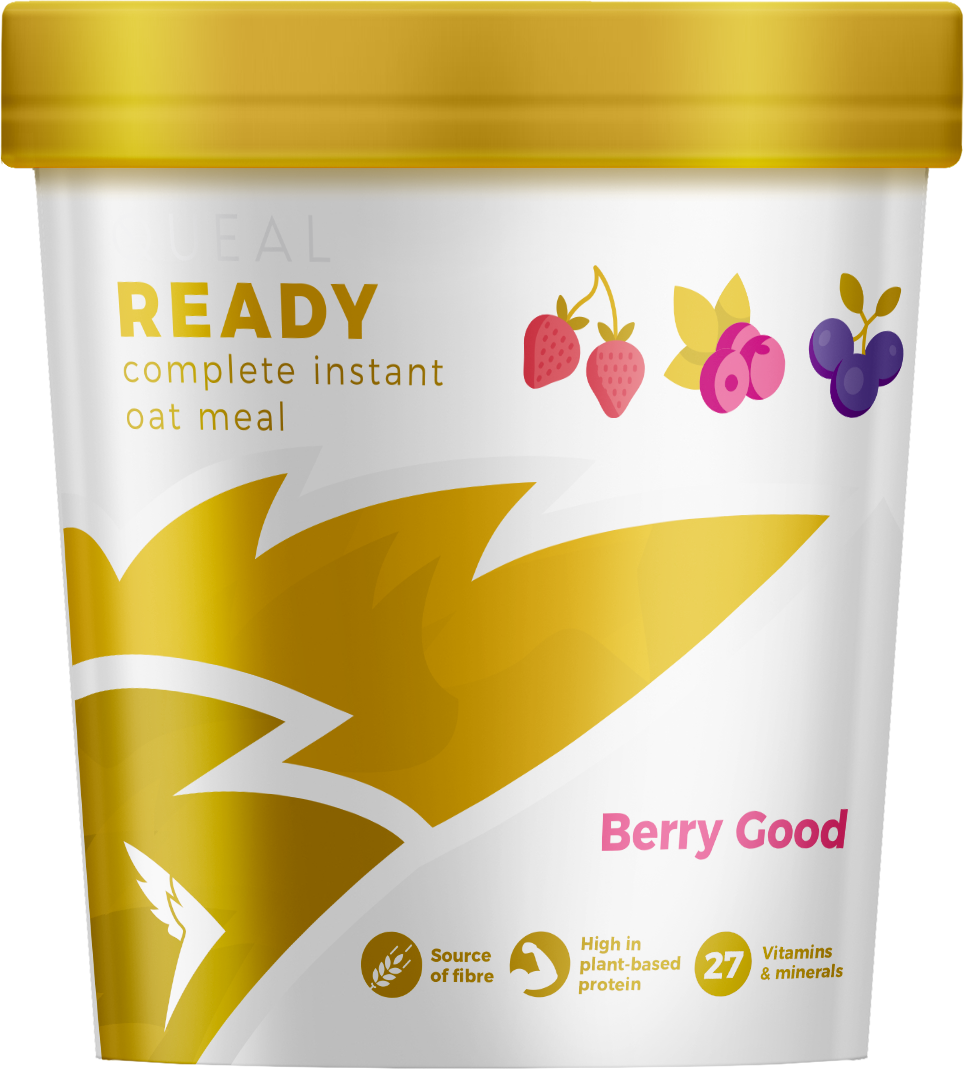 READY OAT MEAL +
Berry Good flavour
Ready is an instant hot oat meal, perfect for breakfast.
Take good care of yourself.
Be more productive.
Save time and win the day with a satisfying and energising breakfast.

SHIPPING INFO
Order before 22:00 for same-day shipping.
Tracking link is provided.
Free shipping for orders above €49,-
Easy returns (within 14 days).
Excellent support (answers within 24 hours).
Full characteristics
Contains all 27 essential vitamins and minerals
Easy to prepare
Suitable for on-the-go
Healthy and satiating
Eliminates difficult food choices (shelf with only Ready)
Vegan
Full of plant-based protein
FAQ
What does Ready taste like?
Delicious! Ok, we might be a bit biased here. Our instant oat meal has been described as hearty, full of flavour, rich, and people like the structure of the meal. You can taste the specific flavour and you can taste the oats & soy too.
What are the main benefits of Ready?
Ready can provide you with 100% of the RDA/RI of vitamins, minerals and nutrients, it's easy to prepare and it has a long shelf life. Eating Ready has a low impact on the environment and is very efficient too.
How long can I store Ready?
The best-before date is 12 months from production. See the bag for the individual best before date. As long as the contents of the bag stay dry, the best-before date doesn't change. In case of bulk packaging, just be sure to properly close the bag again!
What if I want to return Ready?
If you have any problems with your order you can contact us by:
Emailing us at support@queal.com
Calling us at +31 (0)10 669 0135
We always look to make you a happy customer, and will work together with you to see what solution is best suited to your particular situation.
How to use
We sell Ready in both a single-serve cup and a bulk packaging, containing 10 servings. For each serving (a whole single-serve cup or 3 scoops (100g) out of the pouch) we recommend using 200 millilitres of water.
You can either add the water cold and microwave the mixture for about 2 minutes on 600W or add boiling water directly. Give your Ready a little stir, wait a minute or two before enjoying. It's also possible to simply eat Ready with cold water or milk. You will find these preparation instruction also on the packaging.
Carbs
slow and fast carbs
Ingredients
Ready will get you the nutrients you require in one easy cup. Take good care of yourself.
Whole grain oat flakes (gluten), whole grain oat flour (gluten), pea protein, rice protein, dried cranberries (cranberries 9%, cane sugar), soy protein isolate, vegetable oil (sunflower- & linseed), freezedried strawberry powder (3%), vitamin- and mineral mix†, rice flour, modified starch, colour: beet root, natural flavouring, raising agent: sodium bicarbonate, glucose syrup, anti-caking agent: silicon dioxide, anti-oxidant: rosemary extract, salt, sweetener: sucralose
†Vitamin- and Mineral Mix: potassium dihydrogen phosphate, sodium chloride, choline bitartrate, calcium carbonate, vitamin C, vitamin E, chromium chloride, potassium iodide, ferric pyrophosphate, vitamin B3, sodium selenite, vitamin A, D-biotin, vitamin B5, sodium molybdate, magnesium oxide, vitamin B12, zinc oxide, vitamin D2, copper sulphate monohydrate, vitamin B6, vitamin K1, vitamin B9, vitamin B2
Nutritional Values
| | Per 100g (1 cup) | RI* |
| --- | --- | --- |
| Energy | 400 kcal / 1678 kJ | 20% |
| Fat | 12,3 g | 18% |
| of which saturated | 1,4 g | 7% |
| Carbohydrates | 42,6 g | 16% |
| of which sugars | 11,7 g | 13% |
| Protein | 26,6 g | 53% |
| Fibre | 6,6 g | 26% |
| Salt | 0,6 g | 10% |
| Energy | 400 kcal / 1679 kJ | 20% |
| Fat | 12,7 g | 19% |
| of which saturated | 1,5 g | 8% |
| Carbohydrates | 41,8 g | 16% |
| of which sugars | 10,1 g | 11% |
| Protein | 27,1 g | 54% |
| Fibre | 7,9 g | 31% |
| Salt | 0,6 g | 10% |
*% of the daily reference intake for an average adult